Ward Falkner Competitive Obedience Seminar


May 12-13, 2012


Thank You to everybody who participated in the Seminar. We hope you had a wonderful time and learned all kinds of great tips and techniques.
A Special Thank you also to Laurel Skuba of Pawsh Dog for the use of your excellent facilities and to Terry Lambert and Barb Bell, pictured below with Ward, for organizing this successful event.
Thank you Ward for an excellent seminar!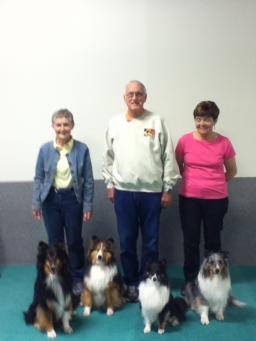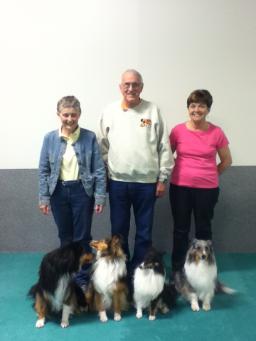 About Ward Falkner and Zoom
Ward Falkner is one of North America's leading obedience trainers. Together with his dog Zoom, he has won over 250 High in Trials, including 54 perfect scores of 200 - a record in the history of Canadian Obedience training. He has placed in the top ten obedience dogs in Canada an impressive 8 times in the past 10 years, and recently won High In Trial at the Eukanuba Invitational Obedience Trial in Florida.
Some of his other achievements include

A record for the number of perfect 200's achieved in a single year at 15
Placed in Canada's Top Ten obedience dogs for past 6 years – 2008 as #1, presently ranked #3
At two years old was the youngest dog in Canada to achieve the GMOTCh title
Only obedience team in history to have been ranked #1 in Canada and also win the US National Obedience Invitational
Only non-American team to win the NOI
High in Trial Golden Retriever Club of Canada National Specialty - 2008, 2009, 2011 – twice with perfect 200 scores
Invitee and participant in the AKC/Eukanuba National Invitational – 2008, 2009, 2010, 2011, 2012
Winner AKC/Eukanuba National Invitational 2011 – adding the letters NOC (National Obedience Champion) in front of Zoom's OTCh.
Quote from Petra Ford, fellow competitor, twice NOI Champion, 1st Place Tie in the Crufts World Obedience Championship...
"This is an absolutely amazing team. Insanely accurate, while maintaining SPEED and STYLE!!! Everyone should be striving to attain all three . . . often, the style and speed get lost while pushing for more and more accuracy. Congrats, Ward and Zoom, well deserved."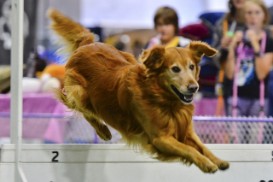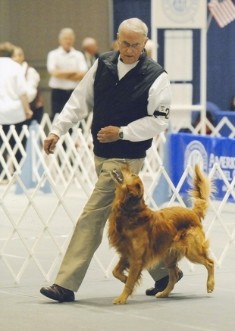 Seminar Outline
Learning Through Associations
Learning Through Consequences
Primary and Secondary Reinforcement
Get It, Mark It, Reward It
Work Close and Work with the Pieces
Change Only One Variable at a Time
Use of the Flexi on AII Exercises
The Beginning - The Puppy
The Target Stick and "Touch" Command
Spin to the Left and Turn to the Right
Recalls and the Opposition Reflex
"Goes" and the Opposition Reflex
"Fronts" on the Knees with a Treat from the Mouth

The Basics

Heeling
Driving Release - From a Sit
Driving Release - Two Step, Five Step, Ten Step – Release
Body Position - Head, Shoulders, Hips, Feet Underneath, Knees Together
Importance of Pace and Step Sizes
Use of Metronome and Straight-Line Heeling for Rhythm
Footwork and Pace Changes
Left Turns and Right Turns - Weight Shifts
Right and Left About Turns - Weight Shifts
Figure 8 - Weight Distribution, Head, Shoulders, Feet
Handler Head Position on Turns and Halts

Fronts and Finishes
Fixing a "Hip Throw" Sit and Building Muscle Strength
Angle Fronts and, Side-passing
Finishes - About and Swing - Why both are important

Attention Training
Informal - Eye Contact Game
Formal - Terry Arnold Eight-Week Program

Open Exercises
Teaching the "Hold" with Fingers
Nose Touch with "Touch" Command
Getting Dog to "Take" and Marking the "Take"
Teaching the "Hold" - Sitting, Moving, with Distractions
Forced Retrieve - Ear Squeeze
Use of Driving Release - High to Low Position - Use of Hand
Toys and People Distractions - Take It vs Get It

Retrieves - Flat and High Jump

Drop on Recall
Down/Stand - Directly in Front of Handler
Increasing the Distance Variable
Recall Distance and Relationship to Drop Speed in Training

Broad Jump
Progressing Into the Turn
Preventing Cutting - Set-up, Use of Rods
Importance of Height and Getting It
Scent Game and Scent Articles
Working Close to the Pile
Avoiding Eye Contact with the Dog
Directed jumping

- the Parts
Food Placement on the Center Post - the Puppy "Go"
Target Stick and a fob to Do
Signals Rather than Verbal/Signal Combination
Multiple Turns and Sits - on a Single Send
Go-outs with Gloves in Corners
Relationship to Leash Handling
Treating After Each Movement
Turning Around After Each Movement
Body Position - Moving Hands Down Thighs
Glove Placement - Three Gloves
The Examination and Verbal/Touch Command
Call to Finish - Use of Plastic Rod
The Beauty of a Sheltie is the Essence of their Spirit.


Copyright 2012 © Winnipeg Area Shetland Sheepdog Association
All images, including artwork, logo, photos, and content are copyright protected.